Franco Maximo MX06 Cabinets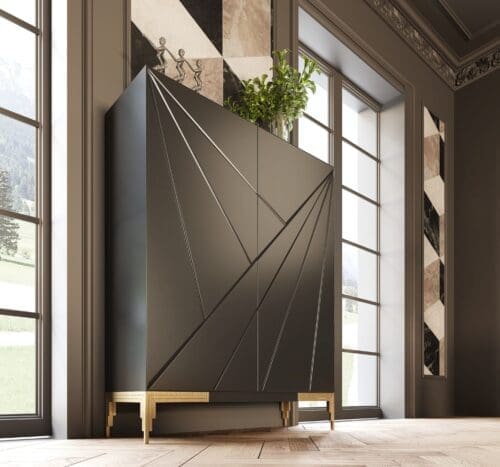 Introducing the Franco Maximo MX06 Cabinets, a luxurious addition to your living space. These elegant and modern cabinets exude opulence with their black exteriors, golden legs, and center display.
The diagonal artistic lines on the front panels add a touch of sophistication, creating a visual masterpiece fit for royalty.
The centerpiece of the Franco Maximo MX06 Cabinets is the center display, featuring a golden opening that showcases your most treasured possessions. This focal point adds an element of grandeur to the cabinets, allowing you to exhibit your prized collectibles or decorative items in a regal manner.
The golden accent beautifully contrasts with the black exterior, creating a captivating visual effect. In addition to the center display, the Franco Maximo MX06 Cabinets feature a two-door design, providing ample storage space for your dishware or other belongings.
The spacious interior allows for easy organization and access, ensuring that your items are kept in pristine condition while maintaining a clean and sophisticated aesthetic.
The combination of the black exterior, golden legs, and diagonal artistic lines exudes luxury and refinement. These cabinets are meticulously crafted with attention to detail and the use of high-quality materials, ensuring durability and longevity.
The golden legs not only provide sturdy support but also add a touch of glamour, elevating the overall elegance of the cabinets. Transform your living space into a royal haven with the Franco Maximo MX06 Cabinets.
The luxurious design, golden accents, and diagonal artistic lines create a visually striking and sophisticated ambiance that exudes opulence and style.
Showcase your most cherished possessions in the center display while keeping your belongings organized and accessible in the spacious storage compartments.
In conclusion, the Franco Maximo MX06 Cabinets epitomize elegance and modern luxury. With their black exteriors, golden legs, and center display, these cabinets create a regal atmosphere that is fit for royalty.
Enjoy the perfect combination of functionality and opulence, and elevate your living space with these exquisite cabinets that are sure to impress.
Now, here are the details for the Franco Maximo MX06 Cabinets:
Showcase
MX0641605
110cm x 210cm x 40cm
Extra 3 Led Spotlights 60p
dishware
MX0641604
120cm x 155cm x 40cm
Extra 2 Led Spotlights 60p
Extra Interior Drawer 100p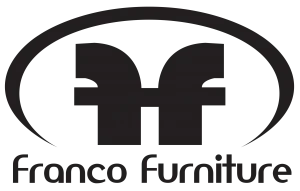 About Franco Furniture
Franco Furniture we are a company specialized in the manufacture of designer furniture for the home. Among our wide assortment of collections you will find double bedrooms, living room furniture and all kinds of auxiliary furniture.
A long history as furniture maker and our service vocation make Franco Furniture products a safe bet when decorating your home.
We currently have a wide presence in the most demanding international markets and it continues to be a benchmark in the Spanish furniture market.
In our Furniture Factory in Lucena (Córdoba) we design and manufacture each and every one of our products by hand. Qualified personnel with proven experience and materials from leading European firms guarantee the durability of our furniture, which undergoes strict quality controls before leaving our facilities.
Franco Furniture has a extensive network of furniture stores that distribute our products and guarantees the complete satisfaction of the final consumer. In our distributors you will find the advice you need when giving the last push to the decoration of your home.
Visit our webpage to check out Franco Maximo MX06 Cabinets and many other unique furniture.
And visit our website: https://uniquefurniture.us
Give us a like on Facebook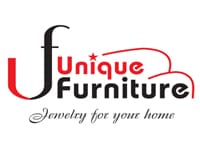 Check out our Pinterest page
Take a look at our YouTube page
Give us a review on Google
6222 North Lincoln Avenue Chicago, IL 60659
(773) 267-7000
#modernfurniture #furniture #furniturestoreinchicago #homedecor #homedesign #sofa #uniquefurniture #wallart #sculpture #bedroom #diningroom #livingroom #moderndesign #yourhome #modernhome #interiordesign #interior #interiorideas #chairs #luxuriousfurniture #contemporaryfurniture #elegantfurniture #eleganthome #luxurioushome #contemporaryhome #italianfurniture #importedfurniture #homeaccessories #homebar #officeset #homerugs #luxuryinterior #furnituredesign #luxuryhome #elegantdesign #interiorism #dreamhome #dreaminterior #dreamfurniture #myhome #homedetails #fineinterior #instafurniture #sectionals #comforthome #comfortdecor #comfortdesign #comfortinterior #homesweethome #homestyle #interiorstyle #stylishhome #stylishinterior #homestyling