Modern furniture for the home and office.
Unique Furniture, Modern Furniture for the home and office.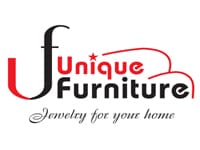 Unique Furniture is a leading retailer of quality modern furniture and accessories.
We provide a large selection of high-quality, modern furniture for the home, business, and everything in between.
We are recognised for offering our clients the chance to design their furniture to their want, giving them the delight of taking home their unique furniture!.
We provide a wide range of modern and exquisite furniture, as well as the possibility to customise colour, size, texture, and many other aspects to give you the satisfaction of creating your own furniture.
Our furniture collection is uncommon in the Chicago and surrounding regions. Our exclusive assortment is developed with modern appeal, current style, and a captivating look. We provide trendy furniture that is custom-designed to match your individuality. Decorate your house or office with our cutting-edge high-end furniture and accessories to inspire your creativity.
When you visit our store you will find items for your entire home.
Come view our magnificent bedroom collection, which includes Queen and King beds, nightstands, dressers, mirrors, chests, and wardrobes.
Tables, side chairs, arm chairs, buffets, mirrors, and cabinets are also available.
 
Explore our beautiful living room furniture, including couches, chairs, and swivel chairs. We have an incredible selection of lighting accessories, ranging from hanging crystal lights to sculpture lamps.
We also provide fantastic entertainment alternatives, such as adjustable media centres to accommodate your TV, sound systems, and video gaming systems. In addition to our fantastic bar goods, we have a wide range of stools in various colours and forms, as well as a wide range of bars.
We also have a wide selection of wall art, including stunning sculpture and glass wall décor.
Don't forget to look at our gorgeous selection of carpets in a range of sizes, styles, and colours. If you need to decorate, we offer a wide variety of sculptures, clocks, and vases to pick from.
Allow us to meet your workplace needs as well. Give your workplace a one-of-a-kind style with our outstanding office furniture, which includes desks of various sizes and shapes, return desks, File Cabinets, File Cabinet Hutches, Rolling Cabinets and Bookcases, and trendy conference tables.
Please stop by our showroom.
We ship to the following states if you require shipping:
Illinois, Indiana, Iowa, Wisconsin, Kentucky, Missouri, Ohio, Michigan, Massachussets, Conneticut, Rhode Island, New york, New Jersey, Pensylvania, Delaware, Maryland, Virginia, Washington D.C., North Carolina, South Carolina, Gorgia, Florida and Texas.
Our Products

Check out these incredible contemporary bedroom sets and accessories. Only at Unique Furniture, Chicago's top furniture store. We have a range of modern bedroom designs that make your bedroom appear more lovely than before.
Know More
These dining room sets are contemporary and high-end pieces of furniture. Choose from a variety of colours, fabrics, and styles. Only at Unique Furniture, Chicago's top furniture store.
Know More