Elite Modern Fusion Cocktail Table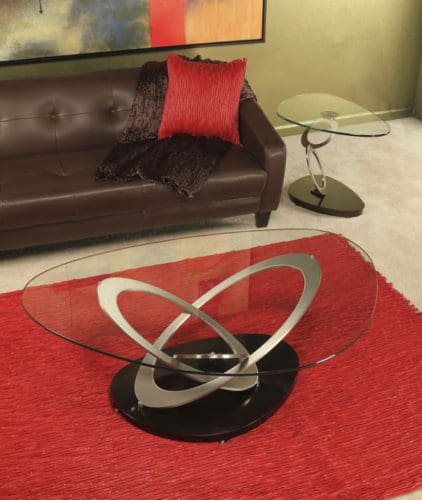 First, the Elite Modern Fusion Cocktail Table is a bold and powerful sculptural statement. Thus, it balances three massive steel ovals in perpetual equilibrium. Secondly, the soft triangular shape of the steel base echoes the generous 1/2" thick clear glass top.
Moreover, two smaller steel ovals fuse to create the unique end table, which can easily stand alone as an accent table. In addition, all steel ovals are Champagne-plated, and the bases come in any Elite durable powder-coat finish.
Fusion Cocktail Table – Cocktail Table
• Base in power-coat
• 34d x 52w x 17h
• 1/2″ clear glass
Fusion Cocktail Table – End Table
• 19.75d x 28w x 21.5h
• 1/2″ tempered clear glass