Luxurious Jay Strongwater Julia Orchid Wall Art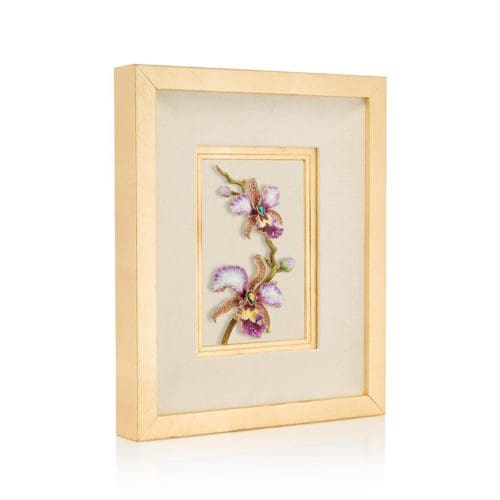 As you look at the amazing Luxurious Jay Strongwater Julia Orchid Wall Art, you begin to realize that it makes the perfect wall art for your home.
Also, it is inspired by old botanical prints. Moreover, it began by carving the original model to capture the orchid's delicate beauty.
Finished in 14K gold with layers of translucent enamels and sparkling with hand-set Swarovski crystals by our finest artisans in Rhode Island. This elegant orchid is individually mounted on a gold-leaf frame.
Julia Orchid Wall Art can self-stand on a table/shelf or be hung on the wall. Beautiful on its own and compelling when combined with the other flowers in our series of wall art designs.
Now, here are the features of the Luxurious Jay Strongwater Julia Orchid Wall Art:
14.5" W 17.5" H
Materials:Pewter with a 14K gold finish, hand-enameled and hand-set with Swarovski crystals from Jay Strongwater Rhode Island workshop.
Gold Leaf Frame with linen matting from Spain. Wire on back of frame for hanging.
Packaging:Signature Jay Strongwater box.
Care and Use:Learn more about care and use for all products.
About Jay Strongwater
Jay Strongwater's love of the bejeweled object has led him on a beautiful journey through the worlds of fashion and home furnishings. Jay began his career in 1981 while a student at the Rhode Island School of Design.
After garnering raves for a necklace, he made for his mother, he took jewelry samples to the open buyer days at several of New York's department stores and a burgeoning business was born.


Strongwater's taste for big, bold bijoux was seen on fashion runways, magazine covers, and prominent jewelry counters across the country. The start of home furnishings was a jewel-encrusted picture frame Jay created in 1995 using components from his jewelry collection.
By 1998, his Jewels for the Home supplanted his fashion business. "I'm fascinated by the idea of taking our everyday belongings and turning them into a beautiful collage of metal, enamel, and sparkling Swarovski® crystals."
Collectors often say they feel the hand of the artisan behind each Jay Strongwater design. This almost tangible sense comes from the work of the highly skilled artisans in the designer's New York atelier and production workshop in Rhode Island, where most pieces are brought to life.
Jay Strongwater's bejeweled collections for the home—from frames and figurines to boxes, furniture, and holiday collections—add color and delight to every room.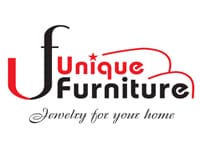 Visit our webpage to check out the Luxurious Jay Strongwater Julia Orchid Wall Art and many other unique furniture.
And visit our website: https://uniquefurniture.us
Give us a like on Facebook
Check out our Pinterest page
Take a look at our YouTube page
Give us a review on Google
6222 North Lincoln Avenue Chicago, IL 60659
(773) 267-7000
#modernfurniture #furniture #furniturestoreinchicago #homedecor #homedesign #sofa #uniquefurniture #wallart #sculpture #bedroom