Modern ThinkGlass thermoformed glass bathroom countertops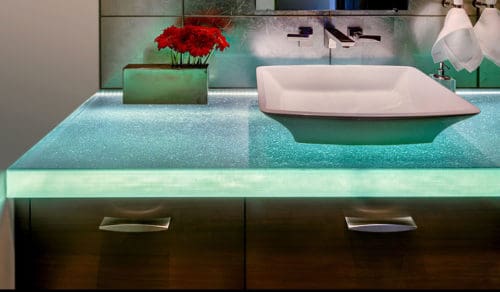 First, ThinkGlass thermoformed glass bathroom countertops pieces have a gorgeous finish. Which, will enhance the look of any bathroom: vanity countertops, shower enclosures, and divider walls.
In addition, our natural and sophisticated glass creations are designed with modern, easy-maintenance materials.
Moreover, the manual process behind ThinkGlass thermoformed glass bathroom countertops different glass creations make each finished product truly unique. Therefore, no one will have a bathroom quite like yours!
Amazing looks and beautiful designs
Notably, do you ever wish you could change the color of your thermoformed glass bathroom countertops to reflect your mood? As well as, match the season, or fit the theme of an event you're hosting? Then, your wait is over. Because Canadian glass studio ThinkGlass LED light systems is here. They illuminate its line of thermoformed glass Kitchen Countertop. Including, a rainbow of colors at your command.
Indeed, the system comes in True White or RGB. Which allows you to light your thermoformed glass bathroom countertops with hundreds of different hues. Thus, the colors program the countertop with a remote control to change, fade in and out, or strobe.
In addition, the countertops themselves come in 10 textured looks (the countertop surface itself is smooth). As well as seven colors, and three edge treatments, and in thicknesses of 1-1/2 in., 2 in., or 3 in. Moreover, countertops also fully customize come from master glass artist Michel Mailhot.
Another key point, despite its fragile reputation, glass is durable countertop material. Thus it has no need to seal or maintain. Also, nonporous and easy to clean, it's also extremely sanitary.
Therefore, you can clean glass countertops with standard glass-cleaning products. Or a solution of water and white vinegar. Importantly, thermoformed glass bathroom countertops come with 25% recycled glass. As well as 100% recyclable at the end of their useful life. Accordingly, we recommend professional installation by a glass professional.
About ThinkGlass


Chiefly, ThinkGlass is the world leader in thermoformed glass. First, created in 1999, it is still at the top of the glass industry, of which the company is extremely proud.
Secondly, it is fueled by master glass maker Michel Mailhot's passion and the help of his dedicated team. Thirdly, ThinkGlass has continued to evolve and reinvent itself to remain at the cutting edge.
In addition, it is our technology that built our reputation, but it is our creativity that makes ThinkGlass unique.
Moreover, product quality and customer satisfaction are ensured by our innovative techniques.
As well as our ultramodern facilities and custom manufacturing. Thus, the manual finish applied to each piece is what makes our products stand out.
Surely, ThinkGlass can create stunning glass pieces that meet your needs, in the thickness and shape you require. In like manner, we have the largest thermoformed glass manufacturing plant in the world.
Also, with 21 kilns all specifically designed for our technology. In conclusion, these facilities give us the flexibility we need to program.
As well as efficiently carry out all your projects, whether large or small, simple or complex.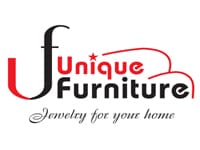 Visit our webpage to check out the thermoformed glass bathroom countertops and many other unique furniture.
And visit our website: https://uniquefurniture.us
Give us a like on Facebook
Check out our Pinterest page
Take a look at our YouTube page
Give us a review on Google
6222 North Lincoln Avenue Chicago, IL 60659
(773) 267-7000
#modernfurniture #furniture #furniturestoreinchicago #homedecor #homedesign #sofa #uniquefurniture #wallart #sculpture #bedroom