Franco Maximo MX11 Cabinets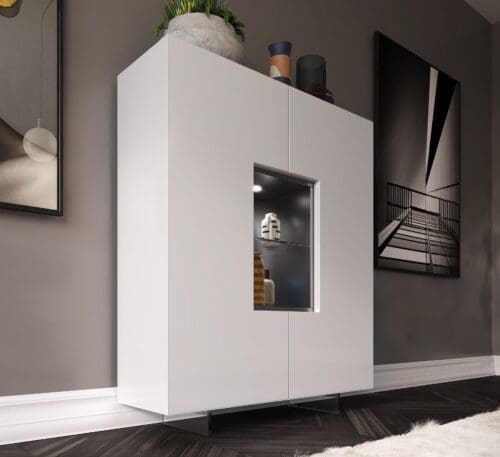 Introducing the magnificent Franco Maximo MX11 Cabinets, the epitome of elegance and modern luxury. These exquisite cabinets boast a sleek and smooth white exterior that exudes sophistication and refinement.
With their glass doors and glass shelves, they offer a perfect balance between functionality and style, allowing you to showcase your cherished items with grace.
The Franco Maximo MX11 Cabinets are designed to fulfill your storage needs with a touch of opulence. The glass doors not only add a touch of elegance but also allow you to display your favorite dishware or treasured collectibles.
The glass shelves further enhance the visual appeal, providing a transparent and airy feel that accentuates the beauty of your displayed items. These cabinets are a harmonious blend of form and function.
The smooth white finish creates a clean and timeless aesthetic that effortlessly complements any interior decor. Whether placed in a dining area, living room, or study, the Franco Maximo MX11 Cabinets add a touch of sophistication to your space, creating a captivating focal point.
The spacious interior of these cabinets ensures ample storage space for all your belongings. From fine china to books and decor, these cabinets provide a convenient and organized solution to keep your essentials within reach.
The glass doors offer a glimpse into your curated collection, adding an element of visual intrigue and elevating the overall ambiance of the room.
Crafted with meticulous attention to detail, the Franco Maximo MX11 Cabinets not only offer functionality but also serve as statement pieces in their own right. The seamless integration of glass and smooth white surfaces creates a visually stunning composition that is sure to captivate and impress.
The cabinets' luxurious design and exceptional craftsmanship make them a true testament to your discerning taste. Indulge in the allure of modern luxury with the Franco Maximo MX11 Cabinets.
Whether you choose to display your finest china or showcase your most cherished possessions, these cabinets will serve as a stylish and practical addition to your space. Elevate your home decor to new heights with these elegant cabinets, where form meets function in perfect harmony.
Experience the beauty and functionality of the Franco Maximo MX11 Cabinets. Revel in their smooth white elegance, glass doors, and glass shelves that provide a captivating display for your cherished items.
Embrace the luxurious appeal and organizational prowess of these cabinets, as they become an integral part of your home's aesthetic. Let the Franco Maximo MX11 Cabinets elevate your space to new levels of refinement and sophistication.
Now, here are the details for the Franco Maximo MX11 Cabinets:
FINISHES to choose:
Any of our finishes
matte and metallic.
Upholstered to choose in any
fabric from our finishing chart
High gloss finishes have an increase of 25% (10% only fronts). Not available on metal parts.
dishware
MX1141460
120cm x 145cm x 40cm
Extra 3 Led Spotlights 60p
Leg 41977
* Methacrylate legs
Showcase
MX1130291
100cm x 200cm x 40cm
Extra 2 Led Spotlights 60p
* Methacrylate legs
Sideboard
MX1130299
190cm x 110cm x 40cm
Extra 4 Led Spotlights 60p
Extra Interior Drawer 100p
* Methacrylate legs
About Franco Furniture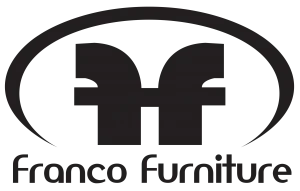 Franco Furniture we are a company specialized in the manufacture of designer furniture for the home. Among our wide assortment of collections you will find double bedrooms, living room furniture and all kinds of auxiliary furniture.
A long history as furniture maker and our service vocation make Franco Furniture products a safe bet when decorating your home.
We currently have a wide presence in the most demanding international markets and it continues to be a benchmark in the Spanish furniture market.
In our Furniture Factory in Lucena (Córdoba) we design and manufacture each and every one of our products by hand. Qualified personnel with proven experience and materials from leading European firms guarantee the durability of our furniture, which undergoes strict quality controls before leaving our facilities.
Franco Furniture has a extensive network of furniture stores that distribute our products and guarantees the complete satisfaction of the final consumer. In our distributors you will find the advice you need when giving the last push to the decoration of your home.
Franco Furniture History
The Franco family started their business 40 years ago in a small goldsmith workshop in Lucena (Córdoba – Spain).
Noble metal crafts and forging were the specialty of «Paco Franco», the founder, who was known for a time in the Cordovan town as «The leader of the rising Sun», for a succulent contract that he signed with a peculiar Japanese businessman. It was at a Tokyo trade fair that Tatsuro Mihara fell in love with his artistic umbrella stands and placed a large order with him on one condition: to turn them into sophisticated garbage cans.
El Japan came to visit Lucena's workshop with a magnifying glass to examine in detail each screw of the luxurious design cubes that imported by the thousands. It was the early 90s, before the company turned its production around and began manufacturing, in 1996, wrought iron and wood furniture.
In 1984 the family founded a new society, F. Franco e Hijos, and in 2002 the company moved to the current facilities, a production and logistics center of 14.000 square meters, where 100 employees came to work. In this evolution, the founder's wife, Toñi López, played "an essential role", highlight her sons, Juan José and Paco Franco, already at the helm of Franco Furniture, the company's commercial brand.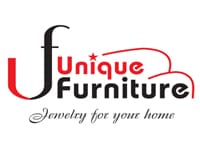 Visit our webpage to check out Franco Maximo MX11 Cabinets and many other unique furniture.
And visit our website: https://uniquefurniture.us
Give us a like on Facebook
Check out our Pinterest page
Take a look at our YouTube page
Give us a review on Google
6222 North Lincoln Avenue Chicago, IL 60659
(773) 267-7000
#modernfurniture #furniture #furniturestoreinchicago #homedecor #homedesign #sofa #uniquefurniture #wallart #sculpture #bedroom #diningroom #livingroom #moderndesign #yourhome #modernhome #interiordesign #interior #interiorideas #chairs #luxuriousfurniture #contemporaryfurniture #elegantfurniture #eleganthome #luxurioushome #contemporaryhome #italianfurniture #importedfurniture #homeaccessories #homebar #officeset #homerugs #luxuryinterior #furnituredesign #luxuryhome #elegantdesign #interiorism #dreamhome #dreaminterior #dreamfurniture #myhome #homedetails #fineinterior #instafurniture #sectionals #comforthome #comfortdecor #comfortdesign #comfortinterior #homesweethome #homestyle #interiorstyle #stylishhome #stylishinterior #homestyling